Eskom warns of 'deliberate' sabotage threatening power supplies
Eskom said a "deliberate act of sabotage" increased the risk of Phase 6 offloading in South Africa.
Company CEO Andre de Ruyter said the act was committed Wednesday evening on a pylon connecting the 3,708 MW Lethabo power plant.
Unknown people cut the guy wires holding a pylon, the tower falling into a second line. As a result, "double redundancy has been eliminated," said de Ruyter.
The attack involved cutting off the eight guy wires, which are galvanized steel rods 24mm in diameter.
"There is no sign of corrosion, no metal fatigue, no shroud shearing. It is clear that there have been cuts, "he said.
Theft was not the motive, he said. The saboteurs did not take anything from the site. "It was not economical, it was an act of sabotage."
The fall of the pylon damaged the coal supply lines that feed the power station. If the plant had lost coal reserves for six hours, it would have triggered a shutdown – and a stage 6 load shedding. This would result in a loss of up to 6000 MW, or about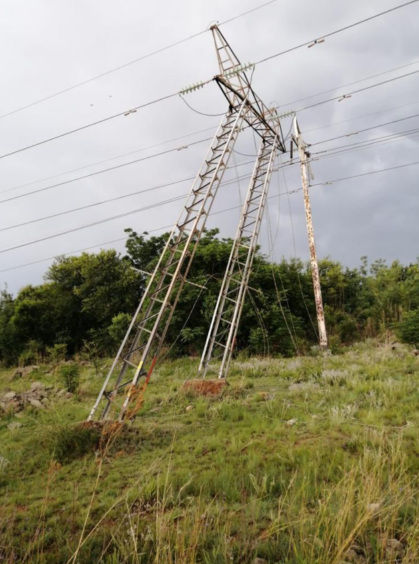 "Our colleagues in distribution innovated to find a third supply… and we really avoided a serious incident at Lethabo," he said.
More security
De Ruyter said there had been a number of "suspicious incidents" in the past. It is "the clearest indication that we have had to date that there are individuals who seek to harm the economy by causing very large and substantial power cuts."
Eskom reported the sabotage to law enforcement authorities.
De Ruyter said given the number of Eskom locations, it was impossible to keep everyone safe. However, it increasingly uses drones and camera surveillance.
Finance research
South Africa secured $ 8.5 billion in funding during recent COP26 negotiations in Glasgow. However, SOE Minister Pravin Gordhan speaking this week said the money would not be used to cover Eskom's debt.
On the contrary, he said, it was for the transition project. He went on to say that it was an "offer from developed countries, this is not a deal".
Gordhan said 41% of South Africa's emissions come from power generation. The country is working on three projects for the energy transition.
These are "Eskom's just energy transition project, secondly the green hydrogen project and third, the transition of the automotive industry from SA to the production of electric vehicles".
Gordhan's ministry is responsible for Eskom, at least for now.
In other comments this week, the minister said Eskom should take disciplinary action against its employees who undermine its operations.
Eskom's management "should not hesitate to fire people," he said. "The country must become intolerant, just like Parliament, towards anyone who wants to undermine a national asset like Eskom," the minister said.
Recommended for you

"It was arguably a massive disappointment" – energy chiefs debate success of COP26