I have to admit I'm fairly new to all the perks and perks that come with it travel credit cards. I've been more of the "welcome offer" type over the past few years.
I was excited but quickly disappointed with the service at the Priority Pass lounges. They were regularly full or at full capacity and unavailable at many airports.
I recently flew to Los Angeles from San Francisco on Delta and found myself having breakfast at the Delta Sky Club. The club is located in Terminal 1 of the San Francisco International Airport (SFO).
I rated my experience at the lounge on five factors: the quality and variety of food and drink, club amenities and services, seating, overall convenience, and atmosphere.
Please share your comments or thoughts on my review in the comments section below or in our Community forum, or shoot me a E-mail.
Food and drink
It was 7am, I was very hungry and my expectations were low as I found the food at the Delta Sky Club in Los Angeles to be mediocre. But the food at the SFO lounge was great!
I had half a bagel, a hard-boiled egg, a DIY yogurt parfait and, of course, a banana to go. No major complaints except that the ginger peaches were the only fruit option for the yogurt so more choice would have been nice. But they were delicious.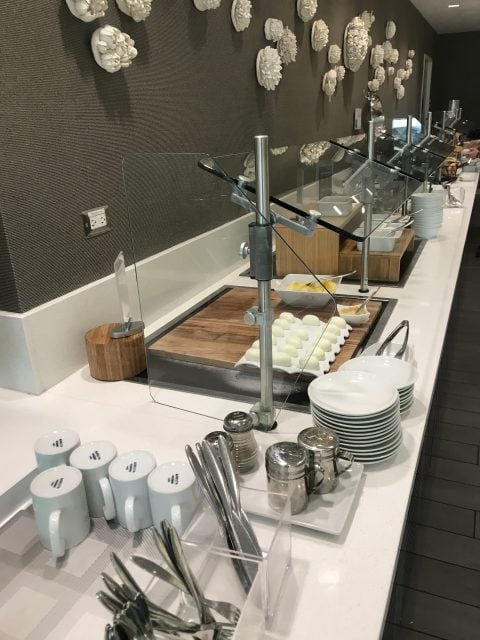 For the more traditional breakfasts there were cereals, muffins, scones and oatmeal, to name a few. Overall the menu was extensive and the food was fresh.
Drink options were standard. I especially liked how the coffee, juice, and water options were scattered throughout the buffet, limiting queues and unnecessary backups. The espresso machine was surprisingly easy to use and made a delicious cappuccino.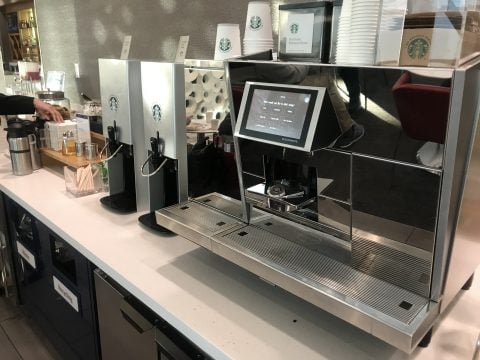 There was also a bar, to cater for those looking for a mimosa or Irish coffee early in the morning. The bar was well stocked and even had a few customers (not visible in this photo).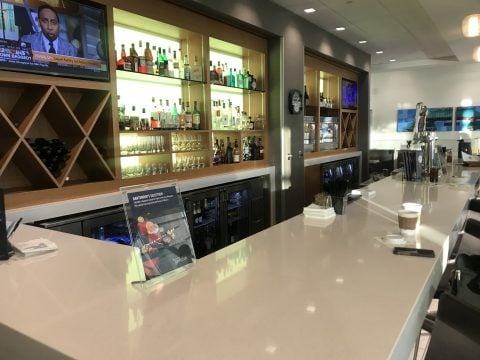 Amenities and service
Club amenities were nice but not exceptional: reliable Wi-Fi, plenty of charging stations, and a nice, clean bathroom. In my opinion, these are all table staking features. I'm really looking forward to my first visit to a Centurion Lounge, the American Express line of luxury airport clubs.
Sky Club staff were friendly, communicative and helpful. The food was hot and my plates were cleared quickly after I finished eating.
Seats
The club was full at 7 am on a Thursday. Fortunately, the space was large and had plenty of seating, from individual chairs to more group-centric options. There were also plenty of workstations for those looking to get a head start on the workday.
I was able to find a comfortable seat, no problem, with plenty of room for my bags and purse. (Again, that's not the case at the Delta Sky Club in Los Angeles.)
Convenience
The entrance to the club is located at the front of Terminal 1 (gate 41). I've been to lounges that seem hidden, but SFO's Delta Sky Club is accessible and conveniently located. More importantly, the entrance was transparent. No lines, no problems – and at 7 a.m. it's a long way.
The atmosphere
It is definitely one of the most elegant salons I have been to. Cool (but functional) furniture, artistic lighting, and a modern, minimalist aesthetic definitely give this living room some serious credit. High ceilings, lots of natural light, and great views of the tarmac also help.
The bottom line
SFO's Delta Sky Club had great food and drink, plenty of space, the right amenities, and a friendly staff. I was able to slip right inside and the location was convenient, just seven gates from my departure gate.
On your next visit, with your The American Express Platinum Card® or as a member of the Delta Sky Club, stop by and save $ 15 to $ 20 in food and drink at the airport. You will be glad you did.
How to Maximize Your Rewards
You want a travel credit card that prioritizes what's important to you. Here are our choices for the best travel credit cards of 2021, including those that are best suited:
The opinions expressed here are solely those of the author and do not necessarily reflect those of NerdWallet or its partners.
Source link