Microsoft's Power Apps can now turn images into apps • The Register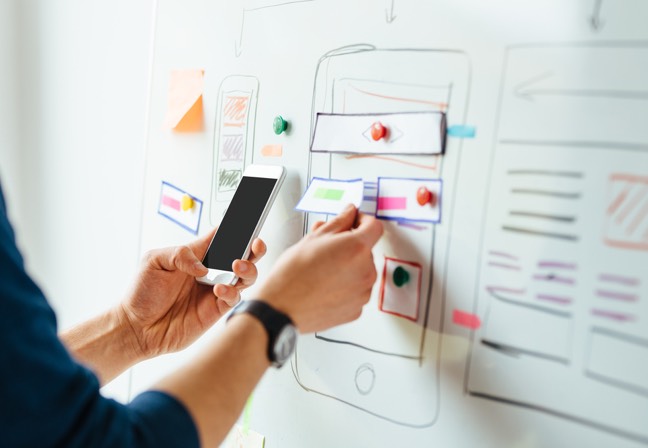 Interview "We implemented this as an 'AI + human' experience," said Ryan Cunningham, VP of Power Apps, "not as an 'AI 100% does it for you' experience."
He was talking about Power Apps, Microsoft's graphics software for building low-code apps, which previews a new feature called "Express design" that recognizes your squiggles.
The idea is that when a human tells the tools what is what, the AI ​​is trained over time.
The vendor was keen to show off the new development at its Build event last week, where the rest of the Power Platform cloud services set was also showcased, including Power Automate, which is used to implement workflows. business, and Power BI, a handy viewer tool.
The Reg tests the preview of Power Apps
When it comes to Power Apps, if it reminds you of Visual Basic or Delphi from the 1990s, you're on the right track. Azure subscription aside (more on that later), the speed at which a relatively inexperienced user can put something working together in Power Apps is reminiscent of those tools of yesteryear.
We took the preview for a spin (after a slightly frustrating time making sure we had the right Azure subscription) and were immediately hit with a sense of deja vu. It looked remarkably similar to Azure Form Recognizer, a service designed to extract data from scanned documents.
Talk to The register, Cunningham acknowledged the similarity. "Under the hood…Azure Cognitive Services runs under the Express design, just as they already do in AI Builder," the VP of Power Apps told us.
"Before this point, you could train a form recognition model to recognize forms you scan or entered into an inbox and automate flow-based processes. This uses some of that same technology, but allows you to actually replace the form with an application."
It's certainly nice. We scribbled some forms and the Express design produced working apps after a few more tweaks (almost everything was a label or text box as far as the Express design preview goes). Inserting screenshots of an old Visual Basic form had more success.
In response to privacy concerns (and we're not sure anyone needs to know what our clumsy attempts to draw a drop-down list look like), Cunningham said, "It anonymizes the recognition model for common apps."
"It's sort of saying, 'Hey, users tend to label images that look like this as combo boxes,' and this model we've trained on a number of examples already, but it continues to improve as it is trained."
Microsoft believes the approach, "even if it doesn't get 100% 100% hand-drawn sketches all the time", is a huge time-saver, especially for fans of low-code presented with a blank canvas. It will also import prototypes from Figma.
It all makes for great keynotes and brilliant videos. However, there is always more going on behind the scenes once a form has been recognized and the data structure behind it has been stabbed.
"It's not magic," Cunningham said, "if you still have to make decisions about logic: 'What happens when I click this button?'
"We can make sure the record is written to the database for you, but then you have to decide what happens next."
Clouds, governance and sovereignty
Unlike legacy enterprise apps, Power Apps continues to be cloud-based. It can't even run on Azure Stack, although customers who want to keep their data on-premises can connect through a gateway. "There's an absolutely regional residency," Cunningham said.
"If I work in the EU and create a Power Apps environment in the EU, all data remains resident and even remains resident in my country."
However, there's no escaping the move to a Power Platform-inherent subscription model. Cunningham pointed to the platform's gangbuster growth into a multibillion-dollar business for Microsoft and the appeal of the cloud model for businesses (many of which are already shelling out for Office 365).
"We have customers with thousands of Power Apps within their organization," he said. "So for them it's just part of a modern worker's kit.
"And it has the benefit of governance and extensibility on top of the old model of something that relied on a desktop and was really hard to manage."
That said, many companies have this weird app that sits in a beige box under the desk, running a business-critical app for decades. Indeed, even the most recent version of Windows still contains components that these legacy applications depend on. While Cunningham boasts of still-functional apps written in 2016, Microsoft will "always transition customers to modern elements that suit them better."
"It's a problem for all software," he said. "When they build it on the Power platform, they're actually trusting Microsoft and the bet we have in the platform to keep that underlying infrastructure modern over a long period of time.
"How do you maintain a healthy lifecycle of an app throughout its lifespan, whether that lifespan is six months or six years? So we take a pretty holistic approach to that in the platform. form."
Cunningham was one of the masterminds behind ClipCard, a service that connected multiple cloud data sources. In many ways, the Power Platform does a similar thing (and has 700 connectors to other platforms).
"That early start-up effort was really about searching, finding, and searching for information," Cunningham said. "Power Platform is about becoming much more active in that environment, being able to create new processes, to automate processes, to create intelligence. So that really takes it to a whole new level of usefulness. "
That is: as long as you have this Azure subscription. And as long as your drawing skills meet Express design preview approval. ®